Merged in a post:
Grouping Media Inside Review
In episodic reviews we desire to have a lot of files from different stages, starting from voice recorded scripts and animatics to final cuts. That way can easily compare different stages inside the same review.
Consequently this produces a harder navigation and overview of files, specially with multiple version of each stage. So our artist team requested if it could be possible to have some kind of "folder" grouping structure as they had before in
Frame.io
.
Currently we can workaround the issue with some regular clean up of version and order manipulation of media files. Could we on the long run have a simple grouping system? Perhaps a collapsable section where 1 latest (manual input) media would be presented and on expansion the other grouped files would also become visible? In the given simple image example, imagine that number 2 and 3 would be group and only number 2 presented before expending the group.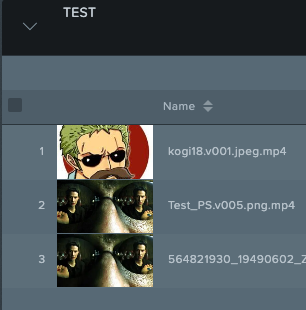 Merged in a post:
Ability to create "shot" categories
When you upload a new version of a clip (eg. as you iterate on a shot as you work towards hitting a note), it would be great to be able to connect/link the new sub to a previous version of the same shot easily. I'm specifically keen to be able to check the notes given on the previous version, to help us easily see if they've been addressed.